Obituary for Thomas "Booker" Washington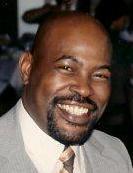 Thomas Aloysius "Booker" Washington, 63, of Champlain St., Plattsburgh, NY, lost his courageous battle with cancer on Sunday, October 28, 2012 at CVPH Medical Center in Plattsburgh, surrounded by family and friends. Born in Mount Vernon, NY on February 13, 1949, he was the son of Booker and Rovina (Wallace) Washington. His remarkably resilient spirit enabled him to persevere through many hardships faced throughout his youth.

Booker served in the U.S. Army during the Vietnam War. Upon his honorable discharge, he attended SUNY Plattsburgh where he starred in football and baseball (as Booker Jones) and was a member of Delta Kappa Delta fraternity. After college, he continued to play football in the Empire Football League until a knee injury ended his career. The NY Jets and NY Mets had no bigger fan than Booker T.

Throughout four decades, Booker worked at some of the hippest nightclubs in downtown Plattsburgh, including the Monopole, Mother's, and Steve's Bridge Street Grill. His illuminating smile and joie de vivre brought class, style, and ambience to every setting. He was a jolly and gentle giant who possessed extraordinary strength, character, and commitment. His iconic and magnetic presence made him Plattsburgh's own Clarence Clemons, Clyde Frazier, and Samuel L. Jackson all rolled into one. He was a peacekeeper who brought people together and always watched out for them.

For the last 23 years Booker worked with Clinton County ARC at a job he loved, assisting special needs adults in his exceptionally kind, compassionate, and considerate way.

He was predeceased by his parents and a sister-in-law, Sharon Dockum.

Booker is survived by the love of his life and wife of 33 years, Donna Washington of Plattsburgh (originally Montreal), his beloved dog Foxy, and two sisters-in-law, Patricia Schell and Gail Donovan, along with several nieces and nephews, all of Montreal, Quebec.

At Booker's request, there will be no calling hours. A Mass of Christian burial will be celebrated on Friday, November 2, 2012 at 10:00 AM at St. Peter's Church in Plattsburgh. On Saturday, November 3rd starting at 1:00 PM, a celebration/benefit will be held at the Monopole in Plattsburgh.

Donations may be made to Booker's family c/o 62 Champlain St., Plattsburgh, NY, 12901 or the Fitzpatrick Cancer Center at CVPH Medical Center.

Arrangements have been entrusted to Brown's Funeral Home, 29 Broad St., Plattsburgh, NY 12901, (518) 561-3980.

Online condolences and memorial candles may be offered at www.brownfuneralhomeinc.com.

Order Flowers